| | | |
| --- | --- | --- |
| Calendars | Cards | Fine Art Prints |
About Delmarva Scenes:
In a way this began in the Summer of 2006. It was then that I first developed an on-line Calendar of Events for the Delmarva Peninsula that eventually took the name ShoreToBeFun. It wasn't until a few years later, after going to events (mostly in Kent County, MD, my home county), that I decided to pick up a camera to document the events. Sometime around 2013 I came up with the creating photos under the title Delmarva Scenes.
Since 2011 I have taken many photographs. In late 2014 I created the first Delmarva Scene Calendar with a new edition published in each of the following years, with this year's being the 5th edition.
As the summer of 2015 began the final concept of photographing the usual, unusual, beautiful and not so pretty scenes of the Delmarva Peninsula, came into full focus. This Web site was created and I began to sell Fine Art Prints.
Now along with the yearly Calendar and the Fine Art Prints, Greeting and Note Cards are now available.
The project is far from over. I still haven't gotten to Virginia's Eastern Shore to photograph the scenes found there. Nor have I spent much time in Sussex County, Delaware and the three lower Maryland Eastern Shore Counties of Somerset, Wicomico and Worcester.
What does the future hold?
There are many places I haven't been where I am sure I will find hold many scenes that should be, need to be, and will be photographed. This project will most likely continue for as long as I am able to photograph the region.
Even though the idea of Wall Calendars may be going away, I will continue to publish them. I already have selected the October Photograph for the 6th (2010) edition.
More Greeting and Note card sets will be coming. If asked I will create Custom sets.
I hope to do a series of Post Cards.
When time and funding allows a Photo Coffee Table type Book with plenty of Delmarva Scenes will be produced. If you would like to help sponsor this idea, please contact me.
Want to learn more about me? Visit by Photography Web site SGAtkinson.com
Thank You
SG Atkinson – Photographer
DelmarvaScenes@SGAtkinson.com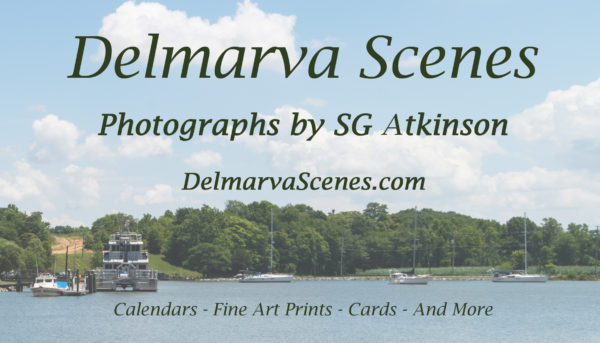 * * * *
Please sign-up to the Delmarva Scenes mailing list to receive periodic (usually no more than Once a Month) announcements and updates.
Last updated:
November 11, 2018