Delmarva Scenes
Photographs by SG Atkinson of
The Usual, Unusual, Beautiful and not so pretty scenes of the Delmarva Peninsula
More about this project below:
The photos can be purchased as:
Fine Art Prints from Fine Art America
Calendars from LuLu.com
and Custom Made Note Cards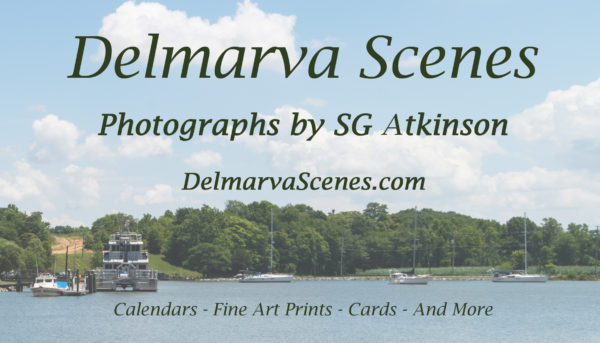 About Delmarva Scenes:
As the summer of 2015 began, I began this project of photographing the Delmarva Peninsula. Since then I have taken many photographs. But the project is far from over.
There are many places I haven't been where I am sure I will find hold many scenes that should be, need to be, and will be photographed.
What does the future hold?
Additional sizes note cards.
I am working to do a Post Card series.
And one day a Photo Coffee Table type Book with plenty of Delmarva Scenes.
Thank You
SG Atkinson – Photographer
Last updated:
October 7, 2018