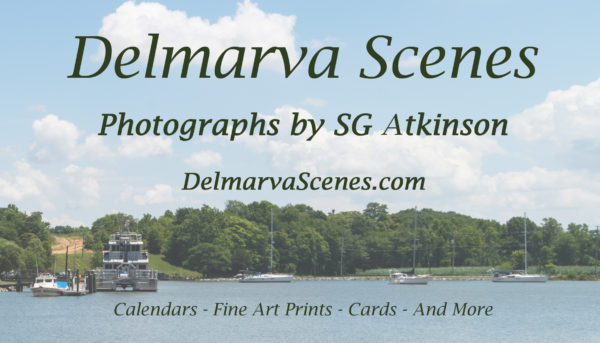 Delmarva Scenes my photographic project to photograph the Usual, Unusual, Beautiful and not so pretty scenes on the Delmarva Peninsula. The Delmarva Peninsula is the State of Delaware and the Eastern Shore Counties of Maryland, and Virginia. For those who may not know much about the peninsula you can read about it at DelmarvaUSA.com.
The project began over 5 years ago and during those years I have taken thousands of photographs. Some have been offered as Fine Art Prints, others in Calendars and Cards. Some have found their way to all three.
With the end of the year coming, along with the Holiday Seasons and the online store opening with New 2019 Calendars and Note/Greeting Cards for sale, I have decided to post a new photograph each day from now until the New Year. And perhaps beyond.
Along with the photograph I will tell the story of how it came about.
Thank You
SG (Steve) Atkinson
# ## #
The photograph that I used for the Delmarva Scenes Advertising Card came from a larger photo taken at Chesapeake City, MD and the C&D Canal. This is the basin behind the Army Corps of Engineers.